The MasterClass in Retouching Workshop is an unparalleled Retouching Experience that will transform the way you finish your images with post-production in Ways you never even imagined. Learn the Secrets of Retouching Faces, Bodies, Backgrounds and Even Landscape Photography with Master Retoucher and Celebrity Fashion Photographer Kevin Michael Schmitz. We will even feature Master Retouchers from different perspectives and answer questions live and even retouch images provided from our Attendees!!

Retouching is a crucial component to Thriving as a Photographer as it directly relates to the 3 fundamental core facets of any photographic business no matter what area of photography that you are involved with.  Photographers are true artists at heart.  To be truly successful and make a solid living and thrive as a photographer, it is vitally important to combine creativity with business and maximize these three pillars of success in photography. Retouching is the core to mastering your Photographic Branding and Portfolio.  Once you create stunning images, its vitally important to retouch them to perfection.

The Retouching for Photographers Workshop with Kevin Michael Schmitz is an Unparalleled Virtual Photographic Workshop Experience where we take images from our attendees and show how to retouch them to perfection!  You will learn all aspects of Retouching Strategies from Fashion, Lifestyle, Portrait and Landscape Photograhy.  You will learn Strategies that are proven to maximize the retouching and post-production of any photographic business from Consumer to Commercial.   Whether your goal is to photograph ad campaigns for major brands, fashion magazine editorials, photograph a higher end wedding or event client, or even sell fine art landscape photography, this is an opportunity you have been waiting for to completely catapult the look, feel and style of your images to the next level.  We will even work personally with you during the workshop to answer all of your questions on Retouching Personally with Kevin Michael Schmitz and our team of Experts.   
Published in over 200 Magazine Editorials, Celebrity Fashion Advertising Photographer, Executive Producer and Director Kevin Michael Schmitz is an absolute expert at Photographic Branding.  He has his Bachelors and MFA to be a Professor of Photography and has worked as an ultra successful advertising photographer photographing ad campaigns for Pepsi, Smirnoff, Miller Lite, Coors Lite, Levi's, UNice, Zara, Four Seasons, UNice, and many many more major brands over his career.  He has been represented by 4 photographer agents including super agents such as JP Reps & 46 Pictures in Los Angeles and AAREPS in NYC.  The crazy thing, is that Kevin Michael Schmitz grew up in a small village of only 2,000 people in rural West Michigan in a working class community.  He began with humble beginnings and started out as a portrait & fine art photographer working in the consumer market at the age of 19.  By 22 he had already been exhibited in over 25 gallery exhibitions selling to private collectors and museums nationwide and had built a booming consumer photography business that put him through school.   Kevin Michael knows a thing about marketing his photographic brand, and he was able to catapult himself to the highest level of the industry and move to California and photograph all over the world or top tier clients regularly photographing six figure photoshoots.  He even landed the opportunity as a the TV Host, Director and Executive Producer of the TV Travel Show Great Escapes that airs worldwide on NBC and the CW.  
Kevin Michael Schmitz did not stumble upon this success. He was not called out of the blue, and he did not have any magic family connections that gave him an unfair advantage.  Kevin Michael had a special sauce when it comes to marketing. He has proven secret strategies that has maximized his photographic potential because of his marketing abilities.  This Virtual Photographic Workshop will dive deep into the first pillar of every photographer's business:  Branding & Portfolio.   With the right knowledge, abilities, and photographic portfolio, you can literally achieve nearly any photographic dream you could possibly imagine. It just takes learning what it is you don't know that you don't know, and figuring out how you can overcome this challenging marketing come out on top like never before.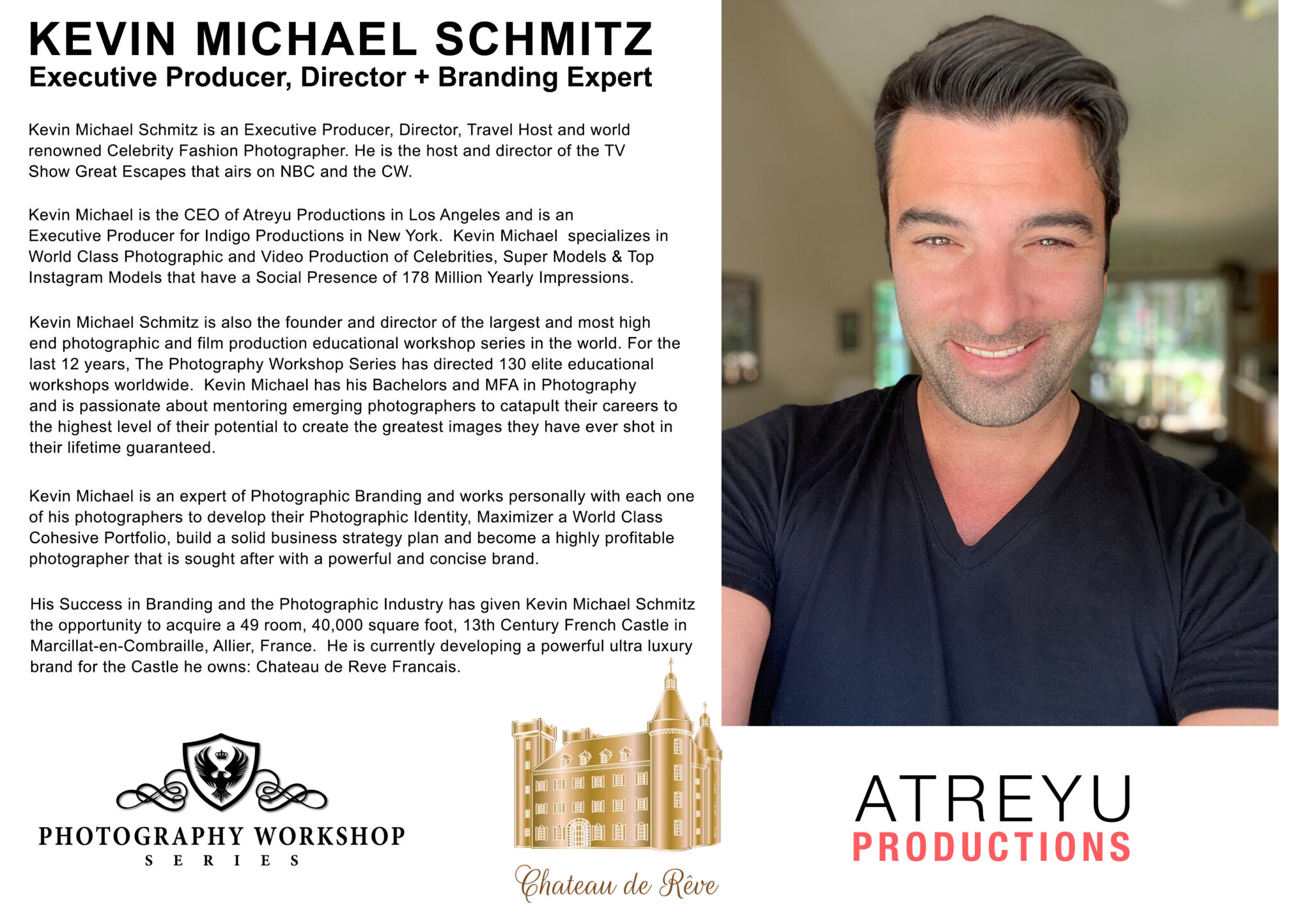 MasterClass in Retouching Photographic Workshop Experience
One Day High Intensive Virtual Photographic Workshop Experience
Secrets of Retouching from Celebrity Fashion Photographer Kevin Michael Schmitz and 2 Additional World Class Retouchers

Master Facial Retouching and How to Make Skin appear flawless yet natural and real for a world class high end aesthetic

Master Advanced Color Correction and how to Adjust Every Individual Color in an Image to Maximize color and contrast

Photographs will be Selected from the Attendee's best work to Retouch Live During the Workshop by World Class Retouchers

Top Tier World Class Retouchers will go in depth on Retouching Fashion, Portrait, Wedding, Beauty and Even Landscape Photography

1-on-1 consult with a Professional Photographic Consultant on Mastering Your Photographing Business Once Your Images are Retouched
Terms & Conditions for All Payments and Enrollments in The Photography Workshop Series MasterClass in Retouching Photographic Workshop Enrollment: The Entire Enrollment Amount will count 100% towards any future 2022 or 2023 Workshop for a 5 Day Photographic Workshop Enrollment. This Payments is to Ensure Enrollment in the MasterClass in Retouching Photographic Workshop Virtual Experience and I Agree that All Payments are Non-Refundable for Any Reason